Tip-Top boarding cattery was founded in 2008 so we've got plenty of experience when it comes to caring for cats.


The cattery is situated in a quiet shady position with chickens and ducks to keep an eye on - and goldfish to contemplate. All the units are designed to house two cats, so single boarders have plenty of space. Everything is squeaky clean, and staff are rigorously trained in the importance of thorough disinfection and cleanliness. Tip-Top owners live on site, and within earshot of the cattery, so anything unusual can be investigated instantly. Last check is late evening when it's lights out and time to snuggle down for the night.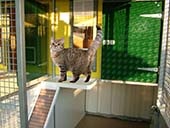 All the units have their own heater running on individual thermostats, so the residents are snug even in the depths of winter. Cats are welcome to bring their own food if preferred, but we can provide everything a spoilt cat could want, so that's up to cat and owner to discuss!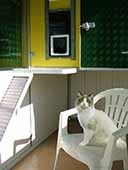 We have drop off and collection times - 9.30 am - 10.00 am and 4.30 pm - 5.00 pm. We really appreciate it if owners can let us know a rough time of arrival, as we are a busy site and we don't like to keep our customers waiting. Charges are £8 per day or part of a day for one cat and £14 per day or part of a day for two cats sharing. We will need to see a current vaccination certificate when you check your cat in.

Call 07816 238316 to make a booking or for an appointment to view the cattery